Die ISPO Brandnew Selection 2021
BAGSOLATE is ISPO Brandnew Selection winner 2021 and can therefore proudly count itself among the top 30 newcomers in the sports industry. As part of the annual competition, the expert jury honors internationally outstanding start-ups that can convince in the areas of sustainability, design, functionality, technology and quality. 
Absolute novelty: ISPO Munich and Expo Area Online
As an award winner, BAGSOLATE 2021 was allowed to participate as an exhibitor at ISPO Munich. The international sports fair is considered an absolute must for all outdoor and fitness fans. Here, trade visitors and buyers from retail and wholesale, as well as manufacturers and sales representatives present the most important trends and news from the areas of action, outdoor, ski, performance sports, textile trends, health, fitness and sourcing every year.
Due to the current Corona pandemic, the organizers designed a completely digital exhibition center from February 1 to 5, where more than 31,000 participants from 110 countries had the opportunity to meet and exchange ideas online. More than 540 exhibitors presented themselves in virtual showrooms at the Expo Area, including well-known names such as Adidas and Mammut.
More than 150 live lectures, panels, webinars, workshops or discussion rounds were dedicated to the main topics of innovation, creativity, digitalization, health and sustainability. Public streams on each of the five evenings provided insights from professionals, fitness and workout programs to participate in, as well as stories and short films from the fields of sports and outdoor.
Our week at ISPO Munich 2021
BAGSOLATE also had the unique opportunity to present itself personally in the livestream on day one. The kick-off on Monday focused on "Innovations & Creativity". In a conversation with host Dan Ram, founder Robert presented our idea and vision and won the host over right away.
However, BAGSOLATE used the first week of February not only for further education, but also to learn about new brands and products and, above all, to make new contacts. Thus, the team had the chance to get to know various manufacturers, distributors and sales representatives all over the world in personal conversations and to inspire them for the product under the aspects of growth and improvement.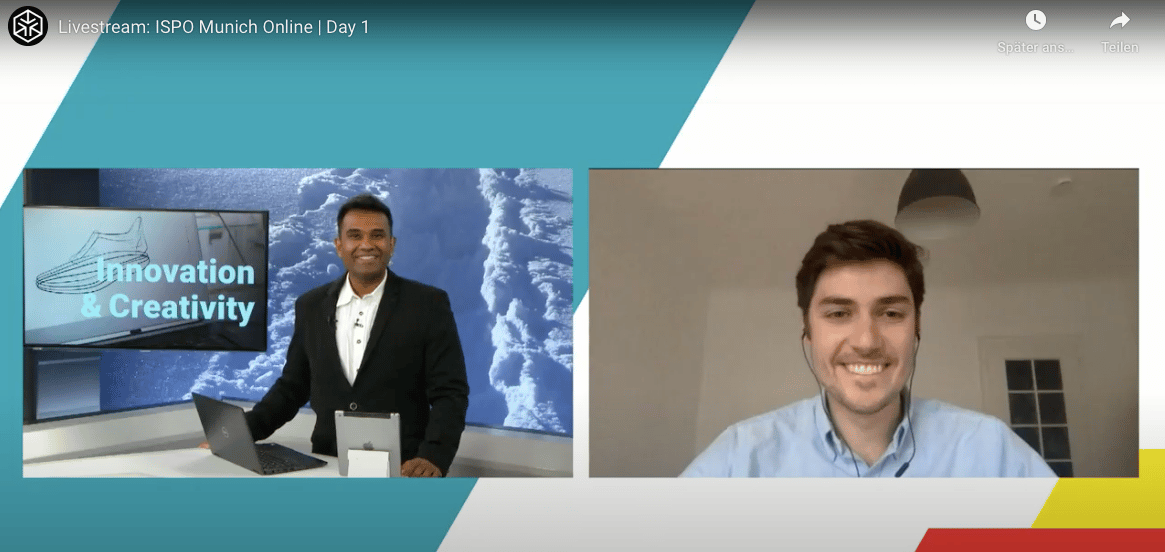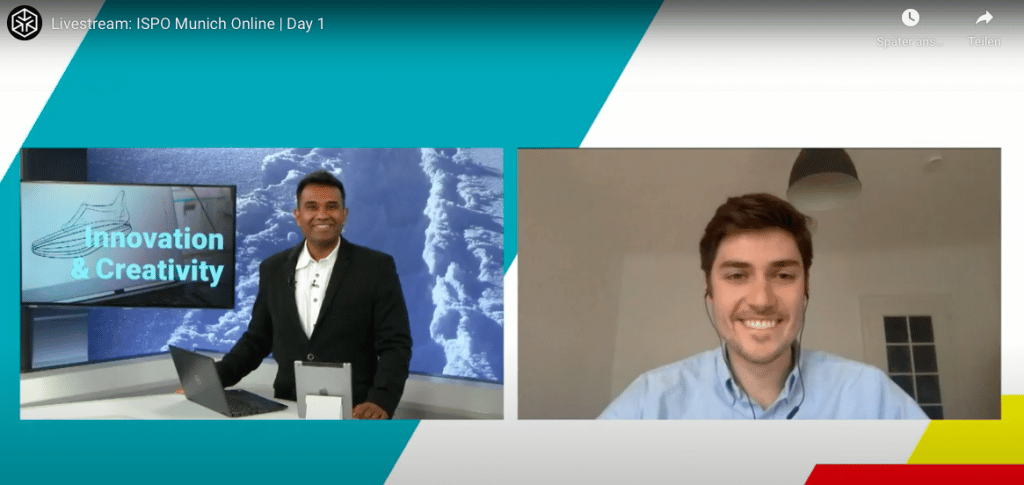 Thanks to ISPO Munich and many interesting cooperation partners, we have some exciting projects and innovations in store to make BAGSOLATE even better for you. Of course, we will remain true to our responsibility.